A 'Pied-à-Terre' in NYC is a home which is used as a secondary residence. The literal translation of Pied-a-Terre in French is "foot on the ground." Buying a Pied-a-Terre in NYC is a great way to establish or maintain roots in NYC if you are based elsewhere in the world.
A Pied a Terre can describe any property type, including a condo, co-op apartment or a townhouse. Co-op apartments are generally the least expensive option, however not all co-op apartments permit Pied-a-Terre usage.
Table of Contents:
The phrase Pied-a-Terre in NYC is used to describe a second home or a vacation property. NYC is an extremely popular destination for pied-a-terres because of the city's relevance in the global economy and status as a cultural destination.
Successful global citizens frequently pass through New York City on business or for cultural pursuits. If you visit NYC on a regular basis, what's better than having a place to call home every time you're in the city?
Pied-a-terres in NYC are particularly attractive because of the perceived stability and long-term upside of the real estate market.
Buying a condo in NYC is a relatively low-risk investment, and it's a great way to deploy unused cash.
While any type of property can be a pied-a-terre, the most common pied-a-terre in NYC is a condo or co-op apartment. This is primarily because owners of pied-a-terres do not have large space requirements, and townhouses are extremely costly.
Given their high asking prices, townhouses are also considered to be very illiquid assets which are difficult to sell later down the line.
The most cost-effective Pied-a-Terre in NYC is a co-op apartment. This is because co-op apartments are generally 10% to 40% less expensive than comparable condos. As we'll explain below, not all co-op buildings permit Pied-a-Terres.
Although most people think of Pied-a-Terres as vacation homes, there is actually demand for Pied-a-Terres from within NYC as well.
Many residents of NYC look to buy a Pied-a-Terre for use as a casual workspace or a place for guests to stay when visiting New York City.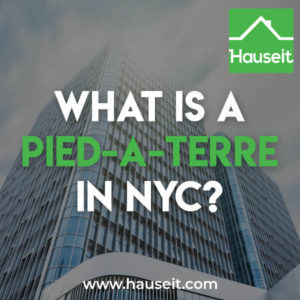 Sometimes. Whether or not a co-op building permits Pied-a-Terre usage depends on the co-op board's policy, and this can change over time.
To further complicate matters, many co-ops have different interpretations of what appropriate 'Pied-a-Terre' usage actually means in practice.
A strict co-op building generally prohibits Pied-a-Terre usage because the building is looking for a strong community, and this can only be accomplished if all units are owner-occupied.
Many of the strict co-op boards in NYC which prohibit Pied-a-Terres are blinded by power and fail to realize that this policy depresses the values of all apartments in the building. Restricting the pool of buyers for any asset obviously reduces demand, which consequentially reduces prices.
Over the past few years, many co-op buildings have viscerally overreacted to various bad experiences with AirBnB and other short-term guests by enacting incredibly harsh occupancy policies for apartments.
In one extreme example, a large co-op in the West Village now prohibits owners from allowing members of their own families to occupy an apartment unless the legal owner is present:
If you're thinking of buying a Pied-a-Terre in NYC but you aren't interested in letting your neighbors dictate how you can use your own apartment, then buying a condo is your best option.
Save 2% On Your Home Purchase
Save thousands on your home purchase with a buyer agent commission rebate from Hauseit
It depends. There are a number of benefits and drawbacks of buying a second home (also known as a Pied-a-Terre) in NYC.
Benefits of owning a Pied-a-Terre include the following:
Convenience and stability of always having a place to call home in NYC.

Avoid the headache of having to figure out hotels or other accommodations every time you visit NYC.

Never have to speak with a hotel reception, wait for a hotel room or request early check-in or late check-out ever again.

Asset diversification benefits and capital upside opportunities of owning a piece of New York City real estate.
The downsides of buying a Pied-a-Terre in NYC may include:
Potential inconvenience of having to sell your apartment in the future if plans change
If you're not familiar with NYC's real estate market, the first step in buying a Pied-a-Terre is to partner with a great buyer's agent.
A seasoned buyer's broker can evaluate your lifestyle preferences and financial goals to come up with a short list of neighborhoods and properties for you to consider. We explain all of the steps to buying an apartment in NYC in this article.
Once you find the right property, the offer submission and negotiation process generally takes one to two weeks.
A Full Service Listing for 1%
Sell your home with a traditional full service listing for just one percent commission.
Disclosure: Hauseit® and its affiliates do not provide tax, legal, financial or accounting advice. This material has been prepared for informational purposes only, and is not intended to provide, and should not be relied on for, tax, legal, financial or accounting advice. No representation, guarantee or warranty of any kind is made regarding the completeness or accuracy of information provided.