The Senior Citizen Homeowners' Exemption (SCHE) allows seniors (age 65+) with an annual income of $58,399 or less to reduce the property tax bill on their primary residence in NYC. This is accomplished by reducing the taxable assessed value of a qualifying senior's home by up to 50%.
The property tax break applies to seniors who own one-, two- or three-family homes, co-ops and condo apartments.
The Senior Citizen Homeowners' Exemption reduces the assessed value of the qualifying property by 5% to 50%, based on income. The maximum reduction of 50% is available for incomes between $0 and $50,000. The size of the discount phases out gradually for incomes between $50,001 and $58,399.
SCHE eligibility requirements are as follows:
Age

: All owners of the property must be 65 or  older,unless the owners are spouses or siblings. If you own the property with a spouse or sibling, only one of you must meet this age requirement.

Income

: The total combined annual income of the property owner and spouse or co-owner cannot exceed $58,399. The total combined income of all owners of the property should include every source of income earned by every owner of the property for the prior calendar year. Income includes, but is not limited to, Social Security, retirement benefits, interest, dividends, IRA earnings, capital gains, net rental income, salary or wages, net income from self-employment, W2s and 1099s.

Ownership

: You must own the property for at least 12 consecutive months prior to the date of filing for the exemption, unless you received the exemption on your previously-owned residence.

Residency

: All owners must occupy the property as  their primary residence except in cases of divorce, legal separation, or abandonment. Owners receiving in-patient care at a residential health care facility may be eligible for the exemption.
Note: A homeowner cannot receive both SCHE and DHE (Disabled Homeowners' Exemption). If you qualify for both, you will receive SCHE.
The income levels and associated SCHE reductions in assessed value are as follows:
$57,500 and $58,399: 5% reduction

$56,600 and $57,499: 10% reduction

$55,700 and $56,599: 15% reduction

$54,800 and $55,699: 20% reduction

$53,900 and $54,799: 25% reduction

$53,000 and $53,899: 30% reduction

$52,000 and $52,999: 35% reduction

$51,000 and $51,999: 40% reduction

$50,001 and $50,999: 45% reduction

$0 and $50,000: 50% reduction
If you're thinking of buying a condo, it's important to check the property tax bill to make sure that the advertised monthly property tax figure does not include a Senior Citizen Homeowners' Exemption which you might not quality for upon purchase.
Here's an example of a property tax bill for a Manhattan condo which shows that the current owner is indeed receiving the Senior Citizen Homeowner Exemption: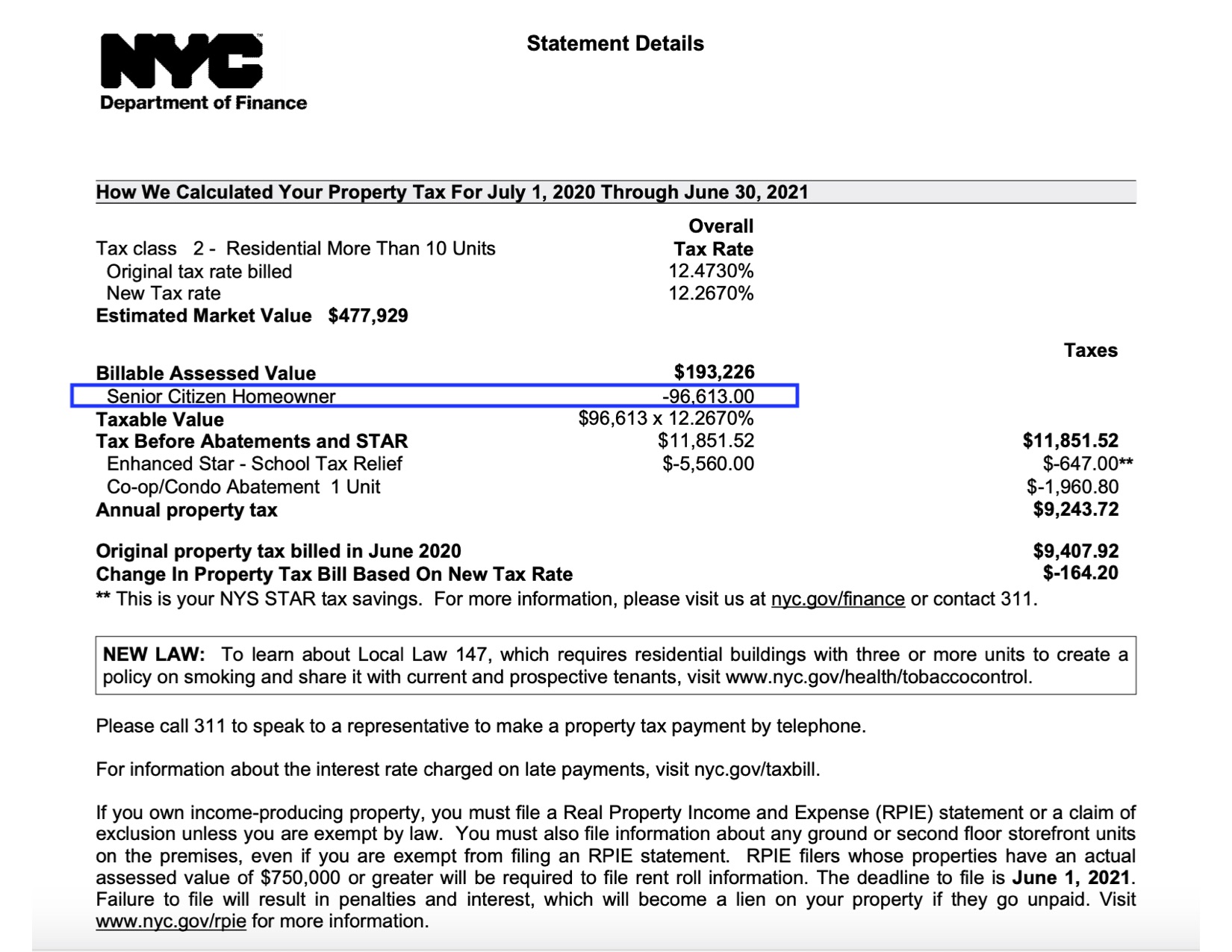 If the purchaser of this property does not quality for the SCHE property tax reduction, the assessed value would remain at $193,226. Therefore, the actual property tax (before abatements and STAR) which the new owner would pay is $193,226 x 12.267% = $23,703/annually, compared to $11,851.52/annually as listed in the current property tax bill.
If a qualifying senior owns a co-op, she or he would receive adjustments to the monthly co-op maintenance bill to reflect the benefit of that exemption.
The deadline to apply for SCHE for the current tax year is March 15. If March 15 falls on a weekend or holiday, the deadline is the next business day.
The Senior Citizen Homeowners' Exemption must be renewed every two years. The Department of Finance (DOF) will mail qualified homeowners a renewal reminder notice and application when it is time to renew the exemption.
If you do not receive a renewal application, you may apply online here if your property is a condo, or here if your property is a co-op.
You can also call 311 to request a renewal application.
If you inherit your recently deceased parent's property, the Senior Citizen Homeowners' Exemption will be automatically removed by the Department of Finance. The recording of a deed, except for a life estate deed, automatically revokes the following exemptions:
Senior Citizen Homeowner Exemption (SCHE)

Disabled Homeowner Exemption (DHE)

Veterans or Clergy Exemption