The 421g tax abatement was created in the mid 1990's to incentivize developers to convert old downtown office buildings into residential use as businesses migrated to Midtown.
The 421g tax abatement covers Lower Manhattan, meaning most areas south of Murray Street, City Hall and the Brooklyn Bridge.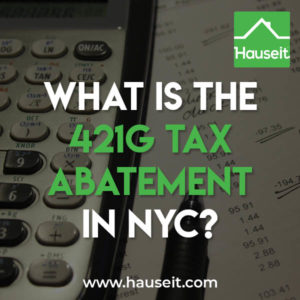 The 421g program provides tax exemptions for 12 years for non-landmark buildings, and tax exemptions of 13 years for landmark buildings.
Non-landmark buildings are fully exempt under 421g during the first 8 years post-construction, after which the exemption amount decreases by 20% per year until the property becomes fully taxable.
Landmark buildings are fully exempt for the first 9 years post-construction, after which the exemption amount decreases by 20% per year until the property becomes fully taxable.
Keep in mind that the 421g tax abatement provides a shorter construction period exemption of only 1 year, vs 3 years on average for its cousin the 421a tax abatement. That's because many of the projects under 421g were condominium conversions vs new construction which means less time required for construction. Remember that many 421g projects were former Financial District office buildings that have been converted into multiple dwelling residential use.
You can check out any NYC building's tax abatement and exemption information for yourself here.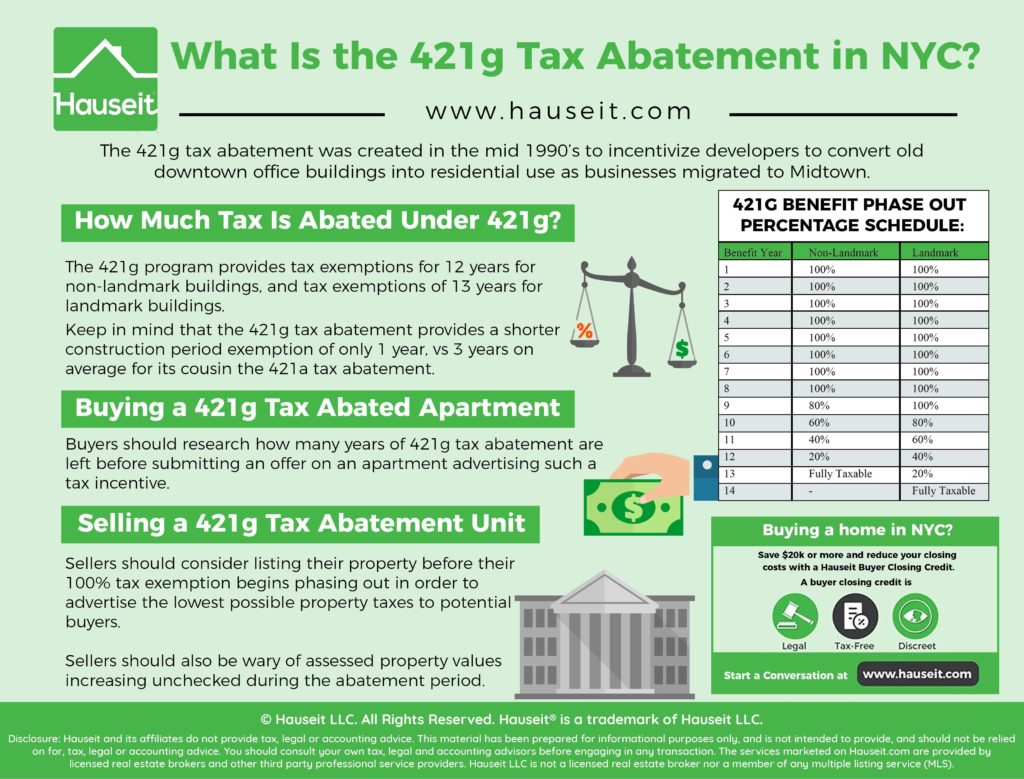 Buyers should research how many years of 421g tax abatement are left before submitting an offer on an apartment advertising such a tax incentive. If the property for sale is a re-sale condo or co-op, then it may not have many years of tax exemption left. Furthermore, the owner most likely knows this and is desperate to advertise it with lower, tax abated monthly costs before property taxes increase.
Even if the property is a condominium conversion or new development, be careful to check how many years of post-construction tax abatement are remaining. Due to the short, 1 year construction period tax exemption, even many condo conversions may experience delays in completion and as a result use up the post-construction benefit period.
An excellent example is 42 Ann Street, a landmarked re-development in the Fulton Street and South Street Seaport neighborhoods. Monthly taxes were advertised as $279 for each of the 7 full, floor, 2,708 square foot lofts which seems unreasonably low.
If you look up the property tax bills for the units on the

NYC Department of Finance websit

e you'll notice that the tax before exemptions and abatements is $22,785. This figure is then decreased by $4,207 through "Resid-Conv. Low Manh" and $11,381 through "Residential Conversion Abatement." This leaves the annual property tax post abatements and exemptions at $7,197. This is still high compared to the originally advertised figure, but not too far off.
If we check out the tax abatements and exemptions website referenced earlier, we'll see that the benefit year for 42 Ann Street is currently year 9 out of 13. Since the building is landmarked, year 9 should be the last year that the building is eligible for a 100% property tax exemption under 421g.1
Interestingly enough, the benefit start date was July 01, 2010 and the benefit end date is June 30, 2023. This means the developer must have suffered some sort of delay in construction because the first closing appears to have been sometime in early 2015 per ACRIS public records. This means buyers of this condo conversion missed out on almost 5 years of the 421g tax abatement. This example demonstrates that you must carefully diligence how many years are left in the 421g tax abatement, even if you're buying a new development condo!
1Why are the property taxes not zero in our example? That's because per the NYC Department of Housing Preservation and Development, the benefits post-construction include a "12-year (8 full years + 4 years phase out) exemption from the increase in real estate taxes resulting from the work and a 14-year (10 years full + 4 years phase out) abatement based on the existing real estate taxes in year one of the benefit term. New York City landmarked projects get one additional year of full benefits."
Sellers should consider listing their property before their 100% tax exemption begins phasing out in order to advertise the lowest possible property taxes to potential buyers.
Even though buyers will discover that the building's 421g tax abatement will soon run out during due diligence, you will have attracted a wider net of potential buyers by having more attractive, lower monthly carrying charges to begin with.
Sellers should also be wary of assessed property values increasing unchecked during the abatement period. That's because many owners will be too lazy to dispute assessed property value increases during the abatement period.
However, once the abatement ends, they may be faced with a rude surprise in the form of dramatically higher assessed values and property taxes than they expected.
As a result, it's a good idea to proactively dispute unreasonable increases in assessed values through a tax certiorari firm, even if your building is currently enjoying a tax abatement. It may be easier to convince the city government to reduce your property's assessed value if you dispute it regularly, vs all at once after your abatement ends.
Tax certiorari firms typically take a percentage of the winnings, i.e. the reduced property taxes. We've seen quotes of up to 15% of the property taxes reduced, only payable if the case is successful.
Many popular, public real estate search websites focused on New York City will automatically add a notification to your listing if the building is still under a tax abatement such as 421g. However, it is up to buyers to conduct due diligence and figure out the details themselves, with the assistance of their lawyers.
Remember that properties in New York are generally sold as is, and the principle of caveat emptor, or buyer beware, applies in this state.
Disclosure: Hauseit and its affiliates do not provide tax, legal, financial or accounting advice. This material has been prepared for informational purposes only, and is not intended to provide, and should not be relied on for, tax, legal, financial or accounting advice. You should consult your own tax, legal, financial and accounting advisors before engaging in any transaction. The services marketed on Hauseit.com are provided by licensed real estate brokers and other third party professional service providers. Hauseit LLC is not a licensed real estate broker nor a member of any multiple listing service (MLS).