Do NYC home buyers have to pay for their buyer's broker? How does a Realtor get paid when you buy a house in New York City? How much are Realtor fees?
Do buyers have to pay for their broker?
No. Brokers fees are a closing cost for sellers only.
It is technically "free" for a buyer to work with an agent as they never have to sign any sort of contract and can switch representation at any time. While you may be asked to sign a disclosure form, you must understand that it is not a binding contract of any sort. Furthermore, you can refuse to sign the standard NY State Buyer and Seller Disclosure Form.
It is simply a form explaining to customers whom the agent represents.
Even if you have signed a disclosure form, you are free to work with whomever you wish.  Buyers are truly "free agents" in real estate!
Keep in mind that whether the buyer is partially paying the broker fees through a higher purchase price is another matter. That's why you should make sure you work with an experienced buyer's agent who can discreetly provide you a rebate of the buyer broker commission!
Discretion is key however, there is no point in getting a buyer rebate if the seller and listing agent both know about it!
How does a Realtor get paid when you buy a house in New York City?
A Realtor gets paid at closing out of the seller's proceeds as a closing cost.
The seller's attorney will issue certified checks on behalf of the seller to both the buyer's broker and the seller's broker.
Because contract negotiations and closings are handled by real estate attorneys in NYC, brokers aren't expected to show up to closing. Sometimes, brokers will show up near the end of closing simply to congratulate their client and to pick up their commission check.
Often times, the seller's attorney will mail them their checks, or the broker will show up at a more convenient time to pick up their check from the seller's attorney's office.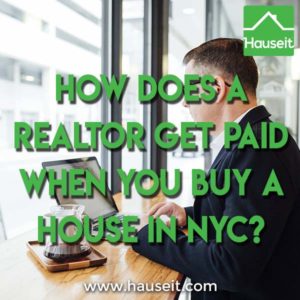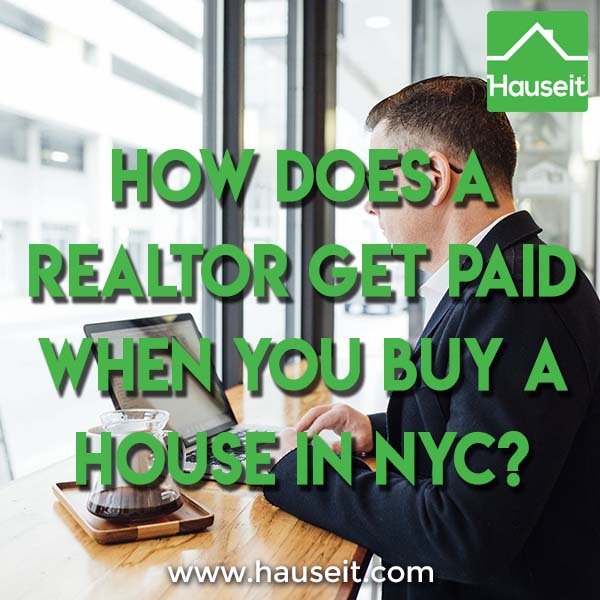 Your buyer's agent will deposit their commission check immediately. Assuming it's a cashier's or certified check, please wait one or two business days after closing for it to clear before depositing your rebate check.
If the Managing Broker is able to meet you at closing, he or she will discreetly hand you an envelope with your closing gift. If the Managing Broker is unable to make it, you will be mailed a check directly from the brokerage's bank which will typically arrive in 5 business days.
How much are Realtor fees in NYC?
Realtor fees in NYC are typically 5-6% per recent studies done by both Hauseit and large publications such as the New York Times. Unfortunately for sellers, 6% of the sale price in commission is still the most commonly quoted figure by brokers in New York City.
The total commission is split equally between the listing agent and the buyer's agent.
If the buyer for some reason does not have representation or gets bullied into dual agency by the listing agent, then the listing agent earns all 6%.
Never let a listing agent bully you into dual agency! Why would you let him earn double commission?
You should always take advantage of your right to dedicated buy side advice and representation. Furthermore, you can discreetly receive $20,000 or more of the buyer broker commission as a closing gift from an experienced REBNY Member buyer's agent!
Our Discretion, Your Advantage
Our traditional partner brokers never openly discount which means less disruption and better execution for you.
Do sellers always have to pay Realtor fees in NYC?
No. There is no legal requirement to pay 6% or anything to sell your home.
However, if you take a look at the total number of listings in NYC on any major real estate search website, you will see that over 96% of listings are being sold by agents.
That means almost all listings are offering some level of commission to buyers' agents. Therefore, if a seller refuses to offer any commission to buyers' agents, they will simply be boycotted by them. After all, a buyer's agent can show his or her client almost any other listing in the city which does offer commission!
Note that the rise of the underground FSBO movement in NYC has ameliorated the situation for home sellers by helping them at least avoid paying any seller broker commission. Furthermore, when a seller lists through a flat fee MLS sale, the seller may be able to avoid paying any commission whatsoever if a direct buyer is found!
Who pays Realtor fees in a For Sale By Owner transaction?
Most For Sale By Owner ("FSBO") sellers expect the buyer to pay for their own buyer's broker. Their rationale is, if you want the advice of a buyer's agent then pay for it yourself!
What they fail to understand with this naive mentality is that they are automatically being boycotted by buyers' agents who represent 90% of all buyer traffic.
This is why traditional For Sale By Owner listings are considered "off market." They are off market because most buyers never even see the listing from the buyer's agent!
Think about it, a buyer is worth 3% in Realtor fees. Why would a buyer's agent bother sending a FSBO listing to his or her client? That would amount to shooting oneself in the foot! Even if a FSBO seller tried to offer commission to buyers' agents, how would the commission be enforced?
Before that is signed, the buyer client can at any time just search online for the address to realize that it's a For Sale By Owner listing.
It may be too tempting for the buyer to just skip his buyer's agent altogether!  This risk is obviously unacceptable to any buyer's agent. No one can afford to work for free in this city!
So what's the moral of the story here? How does a Realtor get paid when you buy a house? If you're a home buyer you don't have to worry about ever having to pay a broker directly.
However, you should be cognizant of the fact that your buyer's broker is indeed earning 3% of your purchase price. It's no small favor!
So you need to make sure your buyer's broker is really earning their keep. There's no reason to throw such a large favor to a random agent friend who may know less than you about real estate.
Work instead with a seasoned, highly rated REBNY Member Broker who will guide you through the process for free plus pay you $20,000 or more of the buy side commission.  After all, you're paying for it through your purchase price, so why not take some of it back?
Save 2% On Your Home Purchase
Save thousands on your home purchase with a buyer agent commission rebate from Hauseit
Disclosure: Hauseit® and its affiliates do not provide tax, legal, financial or accounting advice. This material has been prepared for informational purposes only, and is not intended to provide, and should not be relied on for, tax, legal, financial or accounting advice. No representation, guarantee or warranty of any kind is made regarding the completeness or accuracy of information provided.