Real estate agents have long held an iron-clad grip over home owners in New York City.
Fortunately, according to a

recent Inman News article

, home owners are finding a way around traditional real estate commissions through the underground For Sale By Owner movement in NYC.
"The experience for an

agent assisted FSBO

seller is dramatically superior to a traditional FSBO seller because the seller will avoid solicitation and harassment from agents without buyers," says Chris Oliver who is the spokesperson for NYC FSBO company Hauseit.
Why hasn't this been done yet?
Real estate is known by venture capitalists as a figurative graveyard for start-ups because of the numerous attempts by outsiders who think the way to lower commissions is through an eBay for homes.
Similarly, too many discount brokers have received too much venture capital funding over the past several decades for the same iteration of the idea that

if you openly discount your commissions

, you will gain market share.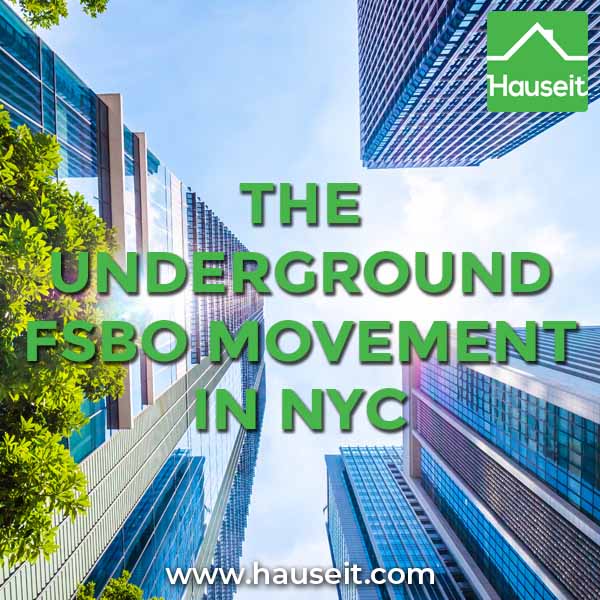 All of these half-baked attemps have struggled to gain traction over the years because they've openly attacked the largest salesforce in the world. The 50,000 licensed real estate agents in NYC control 90% of all buyer traffic. As a result, any listing agent needs the cooperation of other agents representing buyers to be able to sell their listing.
"Being loud about discounting commissions and attacking the brokerage community never works, yet it is almost always the first thing real estate startups think of," says Chris Oliver of Hauseit.
The team at Hauseit has instead taken a softer approach to changing the nature of real estate commissions in NYC. They have amassed a network of traditional, full-service REBNY Member Firms who have agreed to reduce commissions for both home buyers and sellers. "It's a win-win situation for both parties as the brokers don't tarnish their reputations from openly discounting their services and in fact are able to increase their reputations by having more listings," says Chris Oliver of Hauseit.
Hauseit was launched in August of 2014 by investment banking professionals who had become disillusioned with the future of Wall Street. "Since then we have helped almost 200 NYC home owners list their homes with a combined listing notional over $200 million," says Chris Oliver of Hauseit.
Hauseit also offers home buyers a 33% rebate from the buyer agent's commission at close. The listing agent normally shares the 6% commission paid by the seller 50/50 with a buyer's agent, which means the typical buyer agent commission rebate is equivalent to 1% off your home purchase price.  "You're paying for the commission in the form of a higher sales price whether you choose to be represented or not on the buy side," says Chris Oliver of Hauseit, "so why not get some of that money back?"