Buying a brownstone in NYC? We'll demystify how to submit an offer on a townhouse in NYC in this comprehensive guide.
Still need more information about buying in New York City? Estimate your buyer closing costs in NYC using our interactive calculator, and consider requesting a Hauseit Buyer Closing Credit to reduce your closing costs and save money on your purchase. You can also refer to our NYC Buyer's Guide for a comprehensive overview of the home buying process in NYC from start to finish.
Submitting an offer on a townhouse in NYC is as simple as emailing your offer terms and supporting documentation to the listing agent. If you're represented, your buyer's agent will do this on your behalf. Refer to the subsequent sections of this guide for a detailed overview of typical offer terms and required offer documentation.
Generally speaking, offers in NYC are not binding and there is no monetary cost associated with submitting one.
Nor are you legally bound to proceed with a purchase if and when your offer is accepted. As a result, there's very little reason not to test a seller with an offer if and when you come across a suitable brownstone.
You can retract your offer at any time at any point until there's a fully executed contract.
Upon submission, the listing agent will typically reply rather quickly with a simple acknowledgment that the offer has been received. Thereafter, it usually takes around 24 hours to receive a response from the seller.
Keep in mind that the response time and general responsiveness varies by seller as well as the amount of competition from fellow buyers. Similarly, the number of rounds of back and forth depends on a myriad of factors such as the competitiveness of your offer and how long the listing has been on the market.
Typical offer terms to be submitted for a townhouse in NYC include your offer price, contingencies (such as a mortgage or Hubbard contingency), % down (if financing) and desired closing date. If you plan on conducting a pre-contract inspection, the offer should also include the following language (or something similar):
If you're buying a multifamily brownstone with tenants on month-to-month leases, your offer should also specify which unit(s) should be delivered vacant upon closing.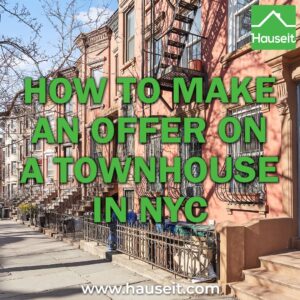 Buyers often ask whether an offer should stipulate other basic terms such as the purchase being subject to a clean title, no outstanding Department of Building violations, etc.
Fortunately, there's no need to enumerate these routine terms in an offer email because your attorney will make sure these items are included in the purchase contract and rider which is negotiated with the seller's lawyer if and when you reach the accepted offer stage.
As a result, there's no need to overcomplicate your negotiation by including additional terms which are essentially assumed/automatic.
A Full Service Listing for 1%
Sell your home with a traditional full service listing for just one percent commission.
We recommend submitting your pre-approval letter (if financing) along with a completed Submit Offer Form, proof of funds and attorney contact information along with your offer terms.
While some listing agents may accept a pre-qualification letter, we strongly encourage you to submit a pre-approval as part of your offer.
Bidding wars are common for desirable townhouses in Brownstone Brooklyn and Manhattan, so you don't want the seller to think you're less financially qualified than a competing buyer who furnishes a pre-approval letter.
Please also make sure that your pre-approval letter is current and has not expired if your lender includes an expiration date.
The Submit Offer Form is a fairly standard offer submission requirement for townhouses and condos throughout NYC. However, exact offer protocols vary by listing agent. Some listing agents might not require a Submit Offer Form, while other more detail-oriented listing agents will ask you to submit a REBNY Financial Statement in lieu of the offer form.
Before submitting an offer, you or your buyer's agent should ask the listing agent for guidance on documentation they're expecting.
We also recommend including proof of funds along with your offer. It should show that you have at least 10% of the offer price readily available in liquid assets, which is the amount of the typical contract deposit in NYC.
Sellers and listing agents like to see proof of funds because it demonstrates that there won't be any undue delay in your ability to sign a contract because of issues liquidating assets or transferring money. Including proof of funds may give you an advantage over other buyers who have a higher risk of experiencing delays when coming up with the contract deposit, such as a foreign buyer who needs to transfer money into the country.
The documentation standard for proof of funds is rather loose and informal. You can typically submit an online banking screenshot or the first page of a bank/brokerage statement (with account numbers redacted).
Finally, we strongly encourage you to submit attorney contact details along with your offer. Including this information signals to both the seller and the listing agent that you're prepared to move forward swiftly if the offer is accepted.
All else equal, a seller will choose you over another bidder who does not submit attorney contact information as part of the offer. This is because the other buyer may delay the contract signing process by several days in order to interview attorneys.
Keep in mind that you can always change your attorney at the time of an accepted offer. You don't have to formally 'retain' a lawyer until the accepted offer stage, so the attorney contact information you submit as part of the initial offer is essentially a placeholder which can easily be changed.
In other words, we recommend including attorney contact details along with your offer even if you're not 100% sure that the attorney whose contact information you include is the one you want to work with.
To reiterate, the benefit of including attorney contact details is that it signals to the seller and listing agent that you're not a newbie who might delay the contract signing process by taking several days to leisurely search for a lawyer once there's an accepted offer.
Neither preliminary offers nor accepted offers are generally considered to be legally binding in NYC. As a result, most brokers in NYC include clear email footer language like the example text below which speaks to the non-binding nature of offers:
That being said, be careful not to sign any term sheet or other transaction summary since it could potentially be legally binding.
While it's unconventional for buyers in Manhattan and Brownstone Brooklyn to be asked to sign anything at the accepted offer stage, this practice is more common in the outer boroughs (such as Queens) and throughout Long Island.
If a listing agent presents you with a term sheet to sign, chances are that she or he doesn't do much business in Manhattan or Brownstone Brooklyn and is simply unaware of the differing regional conventions.
Do not sign anything at the accepted offer stage (or at any other point during a transaction) without consulting a real estate attorney.
Here is a sample offer email for a townhouse in NYC:
In this particular example, the buyer hopes to use a Purchase CEMA to reduce closing costs on the transaction. The Purchase CEMA itself is the act of assigning a seller's existing mortgage to the buyer. The CEMA reduces the amount of new loan money which must be originated, and this reduces two closing costs: the buyer's Mortgage Recording Tax (MRT) bill and the seller's New York State Transfer Tax bill.
A Purchase CEMA is only possible if the seller has a sufficiently large outstanding mortgage balance on the property and consents to the CEMA.
It's also worth noting that the use of a Purchase CEMA does not mean that the buyer assumes the interest rate and other terms of the seller's existing mortgage.
A Full Service Listing for 1%
Sell your home with a traditional full service listing for just one percent commission.
Disclosure: Hauseit® and its affiliates do not provide tax, legal, financial or accounting advice. This material has been prepared for informational purposes only, and is not intended to provide, and should not be relied on for, tax, legal, financial or accounting advice. No representation, guarantee or warranty of any kind is made regarding the completeness or accuracy of information provided.