The fair market value of a NYC apartment is largely driven by recent sale comps within the same building. If there are no sale comps in the building from the past year, the comps analysis must be broadened to include nearby units from similar buildings. Fair value is ultimately determined by how much a buyer is willing to pay as opposed to what value is derived from the comps.
In some cases, a buyer and seller may disagree on the fair market value for an apartment. This is caused by different comp selection or perhaps a different interpretation of the comps. For example, a seller of a higher floor unit may think each higher floor in a 30-unit building is worth $5k while the buyer may value each incremental floor at $3k.
In other instances, a buyer may be unwilling to pay fair market value. A buyer who thinks the market will fall further, for example, may want to target a purchase price slightly below fair value to provide some downside protection. This is particularly frustrating for a seller, as most sellers (incorrectly) assume that a bidder will always be willing to pay fair market value for an apartment.
Apartment comps can be found by utilizing any major public real estate website and data aggregator such as StreetEasy. In addition to showing the previous sale listing, these websites will automatically pull the associated public sale record from ACRIS. ACRIS, also known as the Automated City Register Information System, allows you to browse property records for Manhattan, Brooklyn, Queens and Bronx from 1966 to present.
When reviewing comps, be sure to confirm that the sale price is the official, recorded sale price from ACRIS as opposed to the asking price of an expired listing.
At least 30% or more of real estate listings in NYC do not end up closing for various reasons, and many buyers, sellers and agents often use these as comps even though the listings never officially closed.
It's important to use a minimum sample size of at least three comps (and ideally five or more) to help establish fair market value for your apartment. You should only consider sale comps in your building which are less than one year old. Comps from outside your building should be no older than three months.
It's important to consider the following items when looking for comparable buildings:
Location & Neighborhood

Apartment Type (Condo vs. Co-op)

Pre-War vs. Post-War

Elevator vs. Walk-up

Building Amenities & Service Level
The following considerations are important when selecting individual comps:
Approximate Price Point

Layout (Beds/Baths, etc.)

Similar Floor

Comparable Size
Each comp you analyze will suggest a slightly different value for your apartment or the unit you may be submitting an offer on. If the sample size is large enough, it's prudent to exclude outliers from your analysis. Keep in mind that buyers will gravitate towards the worst comps during a negotiation, so as a seller it's important to familiarize yourself with the more challenging comps so that you're prepared for any eventual offer.
It's particularly easy to value apartments in large condo or co-op buildings with 100 units or more, as there will inevitably be numerous current and recently closed listings to analyze. It's even easier to determine fair market value if there are recently sold comps from the same 'line' on different floors, since these comps all have the same layout.
This allows the valuation exercise to focus exclusively on the interior and unit condition since all other variables, such as building amenities, layout and approximate common charges or co-op maintenance, are similar.
Here are some typical adjustments for comps within the same building:
Apartment Floor: $3-5k per floor (for a mid-rise), larger adjustment for a smaller building

Kitchen & Bath Renovations: $30 to 50k each

General Interior Renovation: $100 to 200 PPSF

New Hardwood Floor: $10 to 20 PPSF
It's harder to value apartments in smaller buildings, particularly pre-war buildings with 10 units or less since there may not be any recently sold comps to analyze. Smaller buildings can also have wildly different financials and levels of general upkeep. If there are no recently sold comps in the building from the past year, fair market value must be deduced by search for active, in-contract and recently sold comps in similar buildings nearby.
It's also important to factor in higher or lower common charges / maintenance across buildings when evaluating comps. This is important since some buildings have higher (or lower) cost structures and budgets than others. While a difference of $100 or $200 a month for common charges isn't super meaningful for a typical NYC apartment, any discrepancy larger than $500/month must be factored in to your analysis.
As a general rule of thumb, you'll want to adjust for 5 years' worth of common charge differential between units. Here's a example:
Subject Property Monthly Maintenance: $1,500/month

Comp Property Monthly Maintenance: $2,250/month

Monthly Difference: $750

Annual Difference: $9,000

5 Year Difference: $45,000

Adjust Comp 2 Downward by $45,000 to Derive Value for Subject Property
A Full Service Listing for 1%
Sell your home with a traditional full service listing for just one percent commission.
Not all buyers are willing to pay fair market value for an apartment. Buyers who are looking for a great deal are by definition looking to transact below current fair market value. During a turbulent or falling market, a buyer may submit a best and final offer considerably below fair value to reflect the risk of the market falling even further after the purchase.
In other cases, a buyer's interpretation of 'Fair Market Value' may legitimately be lower than what the seller concludes. This might be due to certain valuation adjustments that a buyer makes based on her or his tastes and preferences. For example, perhaps a buyer who prefers a bright apartment makes a larger than usual negative adjustment due to a unit's lack of light, views and general exposure.
A buyer may also strategically negotiate for a deal below fair market value if they sense that a seller is desperate or if there are other considerations that reduce the number of competing bidders and make the unit more difficult to sell, such as a poor layout, possible DOB violations or mediocre staging or general marketing.
Our Discretion, Your Advantage
Our traditional partner brokers never openly discount which means less disruption and better execution for you.
Fair Market Value May Change During the Sale Process
The fair market value of an apartment NYC can increase or decrease during the typical multi-month marketing period of a listing. During a falling market, buyers will capitalize on the uncertainty to discount recent comps and try to reset fair value below the most recent sale comps. In a bull market, fair value may consistently reset higher after each successive sale as a result of robust buyer competition and bidding wars.
As a seller, it's important to stay ahead of market trends when pricing your listing. Going to market with an overpriced listing can be especially harmful during a bear market, as newer, less expensive listings will divert buyers away from your unit towards newer, more reasonably priced listings.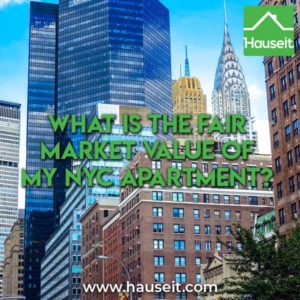 Therefore, it's important to make a swift and decisive price cut if the market is falling are your apartment isn't selling. Resist the temptation to make numerous, small price cuts as this conveys weakness and encourages buyers to wait for additional price cuts.
During a frothy market, it's a good idea as a seller to negotiate with the buyer to waive the appraisal contingency. This will reduce the risk of the deal falling apart if the appraiser's valuation has not kept up with the recent price appreciation on the area.
Posted: 01/06/2020
Disclosure: Hauseit® and its affiliates do not provide tax, legal, financial or accounting advice. This material has been prepared for informational purposes only, and is not intended to provide, and should not be relied on for, tax, legal, financial or accounting advice. No representation, guarantee or warranty of any kind is made regarding the completeness or accuracy of information provided.