A buyer agent commission rebate can cover your closing costs and more; however, there are significant drawbacks to be aware of. If not done right, a rebate can jeopardize your transaction and antagonize the seller, listing agent or both. You'll want to work with a traditional broker who will discreetly provide you with a rebate at close, not a discount broker who's out to disrupt the industry. After all, what if the only thing a discount broker disrupts is your deal?
A Buyer agent commission rebate is a customer incentive used by buyers' agents and typically consists of portion of the buyer agent's fee credited to the buyer at closing, or given to the buyer by check post-closing.
Essentially, the buyer's agent splits some of the commission he or she earns on the deal with the buyer. A buyer agent commission rebate goes by many names: buyer closing credit, home buyer rebate, buyer rebate, Realtor rebate, home buyer cash back etc.
Sometimes, a buyer agent commission rebate will be called a commission kickback or some other form of kickback scheme in an effort to de-legitimize the concept.
The buyer agent's fee is always paid by the seller. The seller typically agrees to pay 6% in commission per their listing agreement with the seller's agent, regardless of whether the buyer is represented by another agent or not.
What typically happens is the listing agent will split the 6% in commission with the buyer's agent, typically equally per local MLS broker association rules. This means the buyer's agent will typically receive 3% in commission for bringing a buyer and being the "selling agent."
If the buyer doesn't have their own agent, the listing agent is in luck and will collect both sides of the commission, or all 6%. This doesn't actually happen very often because 90% of home buyers end up being represented by their own agent. After all, it's hard to turn down an offer of assistance from an industry professional when you don't have to pay for it.
Buyer rebates are legal in 40 US states as of this writing, including New York State where our company was started. 9 states have an outright ban on commission rebates due to strong lobbying efforts by the real estate community: Alabama, Alaska, Kansas, Louisiana, Mississippi, Missouri, Oklahoma, Oregon, and Tennessee. The 10th state, Iowa, prohibits rebates when there are two or more real estate brokers on a transaction.
In states where commission rebates are legal, you'll easily be able to find press releases and published legislation allowing and encouraging innovative commission structures and customer incentives.
For example, former NY State Attorney General Eric Schneiderman published a press release in April 2015 encouraging the real estate community and New Yorkers in general to take advantage of changes in state law allowing commission rebates.
Traditional real estate agents are understandably threatened by commission rebates and any other forms of discounting. It would be naïve to say that traditional real estate agents who control virtually all of the listing inventory and buyer base don't mind having their livelihoods disrupted.
Some rebate brokers will try to explain their way out of this one by saying that listing agents don't mind the buyer receiving a rebate, because it'll be easier to get a deal done. They'll say the only agents who are threatened by commission rebates are full commission buyer's agents.
This is a logical fallacy because every listing agent is a buyer's agent. Agents work with both buyers and sellers, and it's much too deceptive to claim that traditional agents won't care about half of their business being disrupted.
Discount brokers haven't taken over primarily because real estate brokerage is a two agent model. Unlike the travel agent industry which operates under a single agent model, and has thus been completely disrupted and eventually replaced by online travel booking websites, in real estate you need the cooperation of other agents to complete a deal.
90% of real estate transactions are still done today between a seller's agent and a buyer's agent. Much of the remainder is done under dual agency, where the seller's agent represents both the seller and the buyer.
This means that real estate agents need the cooperation of other agents to complete a deal. A buyer's agent needs to be able to work well with other agents because over 96% of all homes are listed by agents. Listing agents also need to be able to work well with and engage buyers' agents, because 90% of all buyers are represented by agents.
However, it's hard to work well with others when your business model is predicated on the failure of others. Just think about it, most discount brokers spend time making noises about how traditional brokers are overpaid and how they'll work for less. Yet, when it's time to try to do a deal, they'll go hat in hand to the traditional brokerage community and ask for a handout. It's almost comical!
Unfortunately for consumers, rebate brokers are largely boycotted by traditional brokers. It doesn't take much for a listing agent to Google an unfamiliar broker and to quickly figure out their scheme. A listing broker will undoubtedly inform their seller of the rebate broker's arrangement with their buyer, which can cause resentment by the seller because he or she is effectively paying commission to the buyer.
Tipping off the seller and the listing agent in this manner can cause a great deal of harm for buyers, especially in a hot seller's market with many competing bidders. Given other bidders to choose from, it's not hard to imagine that a listing agent will prioritize an offer from another agent who isn't out to harm the industry. Remember that listing agents have a lot of leeway on when and how they present offers to the seller, if they do so at all.
The only way to get a buyer agent rebate safely is to work with a traditional broker with great working relationships with other brokers, and who most importantly never openly discounts their services. In other words, you should work with a traditional broker who has discreetly agreed to give you a buyer agent commission rebate.
Buyers can do this by asking their real estate agent friends for a rebate, or to simply give them a more substantial closing gift instead of the typical box of chocolates or bottle of Champagne. Keep in mind however that many brokerages will have corporate policies disallowing any sort of discounting or rebates. Furthermore, we've seen too many instances of buyers' agents promising to take their friends out on the town after a deal closes, but failing to do so.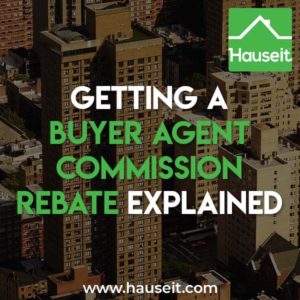 An alternative approach is to start a conversation with one of Hauseit's partner brokers who have already agreed to discreetly rebate you the majority of their buyer agent fee. All of Hauseit's partner brokers are established, experienced traditional real estate brokers who never openly discount their services and thereby tarnish their reputations.
As a result, the buyer commission rebate you'll receive will be discreet in nature. Because our partner brokers aren't discount brokers, listing agents will take them seriously and not assume that their "buyer" came through because of a gimmick or an app.
You can elect to receive it as a credit to you at closing, perhaps to help cover your

closing costs

, or as a check given to you post-closing.
Yes, if you'd prefer to get the commission rebate prior to closing, our traditional partner brokers can negotiate with listing agents to reduce the contract price after an offer has been negotiated and accepted.
For example, say your buyer's agent has negotiated an accepted offer for you of $1,200,000 on a

co-op apartment

in NYC. After the price is agreed upon, your buyer's agent can then ask the listing agent to modify the deal sheet to reduce the price and the buyer agent commission by the rebate amount.
Your lawyer can also negotiate this for you during the contract review and negotiation period. Your lawyer could contact the seller's attorney to negotiate a reduction in the contract price by the rebate amount, and to also reduce the buyer agent's commission accordingly.
Your lawyer may be able to arrange this even if you've already signed a contract. He or she can coordinate with the seller's lawyer to re-arrange the flow of funds at closing such that the rebate is applied as a credit to you. You may even be able to entirely cover your closing costs with the rebate!
No. The IRS released a private letter ruling in 2007 regarding the taxability of buyer agent commission rebates. The IRS ruled that a rebate made through a payment or credit at closing is not includible in a purchaser's gross income, but rather represents an adjustment to the purchase price of the home. Please keep in mind that this means the cost basis for your home is lowered by the amount of the rebate.
Furthermore, you shouldn't expect to receive a Form 1099 from the broker who provide you with the rebate because "a payment or credit at closing represents an adjustment to the purchase price of the home and generally is not included in a purchaser's gross income."
Disclosure: Hauseit and its affiliates do not provide tax, legal, financial or accounting advice. This material has been prepared for informational purposes only, and is not intended to provide, and should not be relied on for, tax, legal, financial or accounting advice. You should consult your own tax, legal, financial and accounting advisors before engaging in any transaction. The services marketed on Hauseit.com are provided by licensed real estate brokers and other third party professional service providers. Hauseit LLC is not a licensed real estate broker nor a member of any multiple listing service (MLS).