Despite the perpetual press coverage of bidding wars, the truth is that not all apartments in NYC sell quickly. There are a number of potential reasons why a NYC apartment has been on the market for a long time.
Possible causes for a high day count include unrealistic pricing, poor marketing exposure, low quality photography, building issues such as financing constraints, seasonality or the fact that the unit is in poor condition or simply does not show well in its current state.
Sellers in NYC often have inflated and unrealistic expectations for how much their apartments are truly worth. These lofty expectations are fueled by press coverage and gossip among friends and family which only focus on newsworthy cases of bidding wars and ultra-high sale prices as opposed to more typical sale outcomes.
This problem is further compounded by the fact that market conditions change over time. In some cases, market conditions can deteriorate in as little as a few months.
Even if the market has softened and possibly turned into a buyer's market, a seller may still swear by that New York Times article from 18 months ago which talked about a bidding war down the street.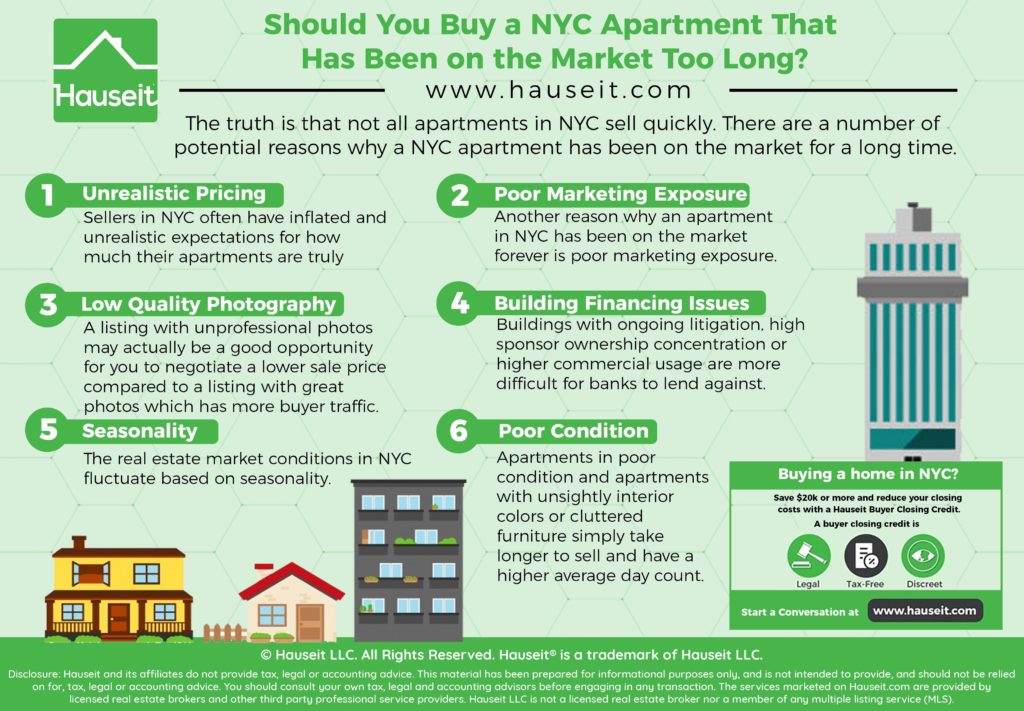 As a result of these misguided expectations, a seller may be lured into working with a listing agent who deliberately inflates an apartment's value in order to earn business. The problem with this strategy is that buyers in NYC are smart and won't pay more than fair value just because a seller's pricing expectations are delusional.
Overpriced listings simply sit on the market until a seller reduces the price. When it comes to the first pricing reduction, many sellers refuse to make a sufficient adjustment to align their listings with market realities. As such, these types of sellers are always chasing the market. In the meantime, newer listings with more reasonable prices steal the momentum and buyer traffic.
By the time the seller reduces the price to something realistic, the day count is high and then that is the only thing that buyers ask about! For example, a new listing priced at $900k will always have more traffic than an identical listing priced at $900k which has spent 245 days on market and was originally listed at $1.2m.
If you're thinking of buying an apartment in NYC with a high day count, it's a good idea to check and see what the initial listing price was. If the current asking price is way lower than where the listing started, chances are that the seller was simply out-of-touch with his or her initial pricing.
Another reason why an apartment in NYC has been on the market forever is poor marketing exposure. If you see a listing which has sketchy photos, no floor plan or a one sentence listing description, chances are that the listing agent is a mom and pop shop who doesn't have a comprehensive listing syndication and exposure strategy for listings.
If the listing agent isn't a member of REBNY, it means that listing is not advertised on the citywide inter-broker database called RLS which is used by over 15,000 buyer brokers to search for and send listings to buyers. As a result, the listing does not have full exposure to the 75% of buyers who are represented by buyer agents.
It comes as no surprise that listings which aren't advertised as broadly will have a smaller pool of buyers. Fewer buyers means fewer offers and a lower likelihood of a bidding war or a multiple offer situation that may yield a higher sale price.
In other words, a listing with unprofessional photos may actually be a good opportunity for you to negotiate a lower sale price compared to a listing with great photos which has more buyer traffic.
On average, listings with bad photography that is causing lower levels of buyer foot traffic will have higher average day counts compared to traditional listings with great photos.
The truth is that even some of the most recognized listing agents in the NYC are guilty of poor photography or bad strategy from time to time. One of the more controversial approaches is to use the first photo on a listing to emphasize the view or outdoor space of an apartment.
What many agents and sellers don't realize is that this same strategy is often used by sellers who are trying to de-emphasize or outright hide the lackadaisical condition of the apartment interior. In other words, this strategy may result in some buyers not even bothering to scroll to the second photo of the apartment!
Buildings with ongoing litigation, high sponsor ownership concentration or higher commercial usage are more difficult for banks to lend against. If fewer buyers are able to obtain financing, it means that the overall pool of potential buyers is smaller than what it would be otherwise.
As a result, apartments for sale in buildings with these issues tend to take longer to sell. If you stumble upon a listing with a high day count, it's a good idea to read through the listing description to see if there's any mention of 'cash buyers only' or other language which suggests that it's difficult to lend in the building.
Apartments in buildings with high carrying costs and/or special assessments are also much more difficult to sell and generally have higher average day counts.
The real estate market conditions in NYC fluctuate based on seasonality. If you find a listing in March which has been on the market for over 3 months, this is very different from finding a listing in September that has been on the market for 3 months.
This is because the first listing hit the market in December, which is during the holiday season and winter period. Contrast this with a listing that spend 3 months on the market during the spring and summer, which benefited from improving weather and a more active period for real estate transactions in NYC.
Apartments in poor condition and apartments with unsightly interior colors or cluttered furniture simply take longer to sell and have a higher average day count.
Many of the most desirable listings in NYC are in 'poor' condition, however these sorts of gems usually have striking pre-war detail which can be restored. These features include exposed brick, ornate fireplaces, crown molding, coffered ceilings and/or cast-iron radiators.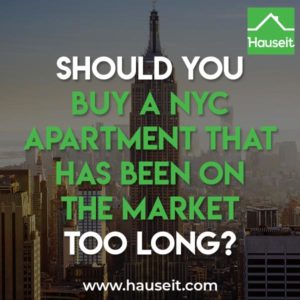 On the other hand, apartments which have no redeeming or restorable original detail and are in poor condition do not have the same level of demand from buyers. If an apartment is simply in bad condition and there's nothing special about it, chances are that it will take longer to sell and have a higher day count.
Disclosure: Hauseit and its affiliates do not provide tax, legal, financial or accounting advice. This material has been prepared for informational purposes only, and is not intended to provide, and should not be relied on for, tax, legal, financial or accounting advice. You should consult your own tax, legal, financial and accounting advisors before engaging in any transaction. The services marketed on Hauseit.com are provided by licensed real estate brokers and other third party professional service providers. Hauseit LLC is not a licensed real estate broker nor a member of any multiple listing service (MLS).