Co-op owners in NYC (also known as shareholders) typically receive an annual co-op tax deduction letter in the mail each year which specifies how much of a tax deduction each owner can take on their personal income tax returns. This letter is also referred to as a Form 1098.
The tax deduction amount is based on the amount of mortgage interest and real estate taxes paid by the co-op corporation each year. Calculate your annual co-op maintenance income tax deduction using Hauseit's

Interactive

Co-op Tax Deduction Calculator

.
The Form 1098 specifies two dollar deduction amounts: one for mortgage interest and another for real estate tax. A co-op owner calculates her or his dollar deduction amount by adding these two figures and multiplying the result by the number co-op of shares owned.
Buyers
, sellers and
listing agents
in NYC commonly refer to a co-op's percentage of tax deduction for monthly maintenance (as opposed to the dollar deduction amount) in order to more easily compare this figure across different listings.
The percentage of tax deductibility of maintenance is calculated by dividing a co-op apartment's annual tax deduction dollar amount by the annual sum of a co-op's
monthly maintenance payments
.
Partially! How much of a deduction you can take depends on the amount of real estate taxes and mortgage interest paid by your co-op as well as the number of shares assigned to your apartment.
As a co-op owner in NYC, you'll receive a Form 1098 each year from the co-op's accountant. This letter will provide you with the real estate tax and mortgage interest deduction figures which will allow you to calculate your annual dollar tax deduction amount.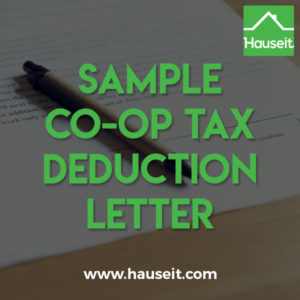 What does a sample co-op tax deduction letter look like? Is it the same as the Form 1098 your co-op mails you for tax season?
Here is an example of an actual co-op tax deduction letter for a large co-op in Manhattan: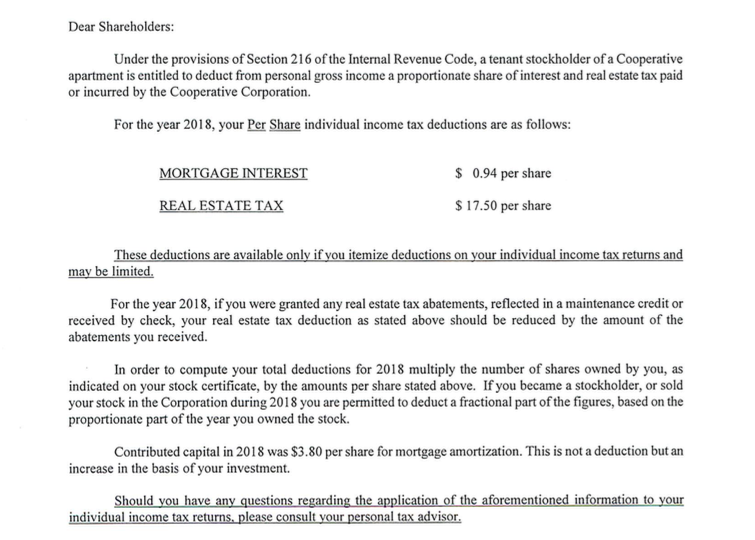 Here is another example of a co-op tax deduction letter for NYC:
The percentage of tax deduction for co-op maintenance fees can be calculated in three simple steps:
The average co-op tax deduction percentage in NYC is 40% to 50% of monthly maintenance. The specific tax deductibility percentage varies by co-op according to the amount of mortgage interest and real estate taxes paid by the co-op each year.
If two co-op buildings pay roughly the same amount of real estate taxes but one has a much larger mortgage with a higher interest rate, the annual tax deduction percentage will likely be higher for the co-op with the bigger mortgage.
The percentage of co-op maintenance that's tax deductible depends on how much in real estate taxes and mortgage interest is paid by a co-op building each year. Therefore, a co-op with a higher annual real estate tax and/or mortgage interest bill will have a higher tax deduction percentage.
When you're
listing your co-op apartment for sale
, you'll need to know key facts about your apartment such as the number of shares you own and what percent of your monthly maintenance is tax deductible. Instead of guessing what percent of your maintenance is tax deductible or doing a complex calculation from the financial statements, simply retrieve the co-op tax deduction letter your co-op corporation mailed you.
This co-op tax deduction letter is formally known as IRS Form 1098 and tells you exactly what portion of the building's
real estate taxes
and interest you paid as a shareholder.
As long as your co-op is compliant with
Section 216
of the tax code and is primary engaged in being a housing cooperative versus other business activities, shareholders will be able to deduct their portion of the co-op corporation's real estate taxes and interest!  Learn more about the differences between
co-ops vs condos
as well as
condops
in our
blog
!
After you've found your co-op tax deduction letter and figured out the percent of your maintenance that is tax deductible, you'll need to procure a few other basic pieces of information to be able to list your apartment. These include:
The number of bedrooms, bathrooms and total room count

Monthly maintenance

Assessment

details, if applicable

Max financing allowed

Number of shares owned

Pet policy

Unit condition and unit view (i.e. open, obstructed or partially obstructed)

Unit exposure (i.e. direction windows face),

Open house times
Once you're well underway with your sale, you'll need more detailed information such as the building's
financial statements
, a copy of the
offering plan
as well as the
proprietary lease
. The buyer's
attorney
will need these materials to complete
due diligence
before your buyer signs the
purchase contract
.
Disclosure: Hauseit and its affiliates do not provide tax, legal, financial or accounting advice. This material has been prepared for informational purposes only, and is not intended to provide, and should not be relied on for, tax, legal, financial or accounting advice. You should consult your own tax, legal, financial and accounting advisors before engaging in any transaction. The services marketed on Hauseit.com are provided by licensed real estate brokers and other third party professional service providers. Hauseit LLC is not a licensed real estate broker nor a member of any multiple listing service (MLS).