So you're thinking about selling your home without an agent and want to know what the FSBO success rate in NYC is.
Well, the FSBO success rate in NYC actually varies quite dramatically depending on how a seller approaches the home sale process.
For example, are you going it completely alone and listing your home For Sale By Owner on Zillow and Craigslist?  Or are you listing it via an Agent Managed FSBO and offering a commission to buyers' agents on RLS (i.e. equivalent to the NYC MLS)?
FSBO Success Rate in NYC for Traditional FSBO Home Sellers:
Without sugarcoating it, the FSBO success rate for traditional FSBO sellers in NYC is absolutely abysmal. If you think sticking the digital equivalent of a for sale sign on your home will do the trick, then you'll be in for an unpleasant, lengthy and costly surprise.
This is due to a combination of factors, primarily because the FSBO sellers loses confidence in their ability to properly market the home and succumbs to broker solicitation and harassment.
A big factor is also the lack of full exposure to both buyers and buyers' agents. Essentially the FSBO seller is "off market."
The traditional FSBO seller inadvertently ignores the vast majority of home buyers who are represented by agents, thereby losing out on over 75% of potential bidders for his or her home.
In NYC, there are approximately 5,000 real estate transactions closed per year. 90% of those transactions are done between two agents (a buyer's agent and a seller's agent).  As a result, traditional FSBO home sellers miss out on up to 90% of all home buyer traffic.  By this metric, only 10% of home sales in NYC succeed in having less than two agents involved.
However, you must factor in the percentage of cases where the listing agent sells a home to a buyer who chooses to remain unrepresented.  After accounting for this scenario, we estimate less than 1% of all home sales are successfully sold FSBO.
Who are the buyers for the less than 1% of sales that are sold FSBO in NYC?  They will be split evenly between the occasional direct buyer and brokers who dared to negotiate a one-off FSBO commission agreement with a FSBO seller.
Because inventory in some markets can become very tight, desperate home buyers may often demand to see a property regardless of whether their buyer agent sent it to them or recommended it to them.
As a result, a buyer's agent will occasionally be forced to try to negotiate with a FSBO seller and get a commission agreement negotiated and signed before introducing the buyer.
FSBO Success Rate in NYC for Assisted FSBO Listings
An agent managed FSBO, also commonly referred to as an assisted FSBO or flat fee MLS), will have a success rate equal to a traditional for sale by agent listing assuming the home seller doesn't make the top 3 mistakes and reasons why NYC FSBO sellers fail.
There are two types of discounted listings where you will avoid paying 6% in broker commissions.
The full service for 1% option is the only way to completely avoid broker solicitation.
Under the full service listing option, you would have a full service agent to conduct all showings, plus handle all inquiries and negotiations on your behalf.
Your full service agent would be from a reputable, full-service REBNY Member Firm with good relationships with the wider broker community.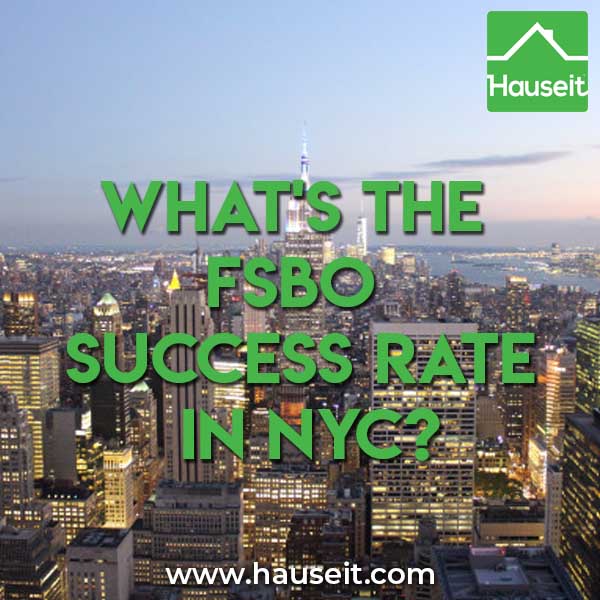 Essentially, a full-service listing agent from a reputable, established, traditional brokerage firm will manage your entire sale, from start to finish.
As you can imagine, the success rate for a 1% for full service listing is equivalent to a traditional for sale by agent listing because you will be listed by a traditional, full service broker.
The success rate will not be any different because you'll be working with a traditional broker who uses the same tools and syndicates to the same websites and MLS systems as another traditional broker.
The only difference will be the lower rate of commission paid to the listing agent of 1% vs. a traditional 6% exclusive right to sell listing agreement.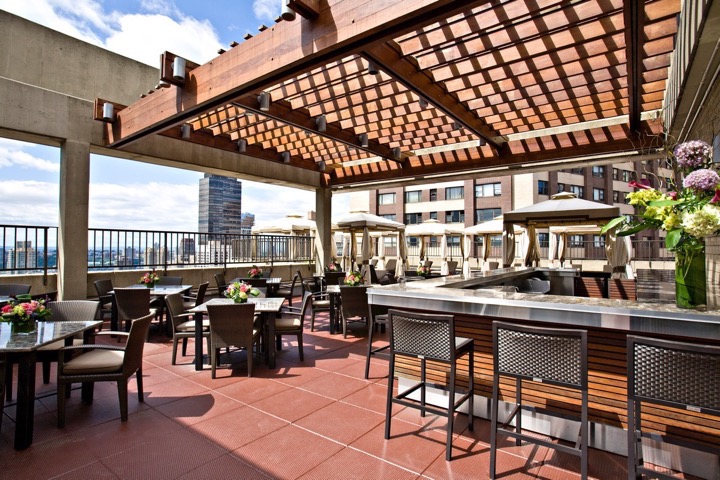 Moreover, the listing agreement you will sign will be highly favorable in comparison to traditional exclusive right to sell listing agreements because you will NOT be required to pay commission if you decide to back out after a "ready, willing and able" buyer is found at your listing price.
A more economical method is an Assisted FSBO listing.
You would be listed in RLS and over a dozen other major real estate search websites such as StreetEasy, Zillow, Trulia and New York Times by a reputable, full-service REBNY Member Firm.  However, you would be responsible for any private showings and much of the coordination, scheduling and negotiation.
Assuming you understand the top three reasons why NYC FSBO sellers fail and have had professional photographs taken, selected a reasonable listing price and maintained your confidence in spite of any broker solicitation, then the FSBO success rate should be 100% of that of a traditional for sale by agent listing.
So why are FSBO success rates so low in New York City?
FSBO success rates for people who attempt the traditional for sale by owner route are low primarily because they lose confidence and lack basic knowledge about the home sale process in NYC.
With that said, even sellers who utilize an assisted FSBO through Hauseit can get confused by the very rare instance of broker solicitation.
Here's an example of an actual seller who lacked understanding about the sale process and almost got confused by broker solicitation:
A question, actually: A broker would like to send a professional photographer to the apartment, take pictures, and list on his website and the New York Times but only take a commission if he brings a buyer (the same buyer commission we offer to anyone). Would there be an issue with accepting his offer and maintaining my listing with Hauseit?
Here is the response from our customer service team:
Hi Sarah – To minimize the chance of you having to pay a buyers agent commission, would it not make the most sense for you to hire your own photographer (can be done for a few hundred dollars via Hauseit) so that we may refresh your listing's photos on all relevant portals including the NYT on your behalf? That way you retain full control of unrepresented buyer inquiries without having to fork out a buyer's agent commission.
You would almost certainly benefit from changing out the current photos on your listing with professional ones! Unfortunately it would not be permissible for another broker to post your listing on a public website like the NYT while we are under an exclusive.
We'd also suggest not accepting solicitation from agents who do not have direct buyers for you. In addition to it being against REBNY rules for brokers to solicit owners who are under existing exclusives, these agents are almost always out to lower your confidence and rattle you to the point where you hire them. At which point they stick to a very simple formula – lower your listing price and invest in professional photos while charging you a commission once a buyer inevitably appears!
A Full Service Listing for 1%
Sell your home with a traditional full service listing for just one percent commission.
The first edition of this article was originally published on 5/18/2016.
Disclosure: Hauseit® and its affiliates do not provide tax, legal, financial or accounting advice. This material has been prepared for informational purposes only, and is not intended to provide, and should not be relied on for, tax, legal, financial or accounting advice. No representation, guarantee or warranty of any kind is made regarding the completeness or accuracy of information provided.