BOM stands for "back on the market" in real estate, and is a common abbreviation used by real estate agents. As the name suggests, a listing that is back on the market simply means that it is available again after a prior offer or contract fell through.
A seller typically puts a house back on the market because a previous deal with a buyer fell through, and the seller still wants to sell and is willing to look for another buyer. The listing might have had an accepted offer or even a signed contract, but for some reason or another the buyer backed out.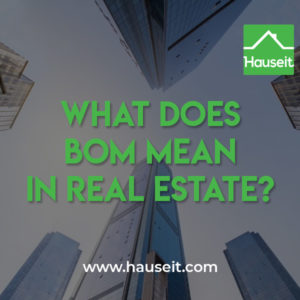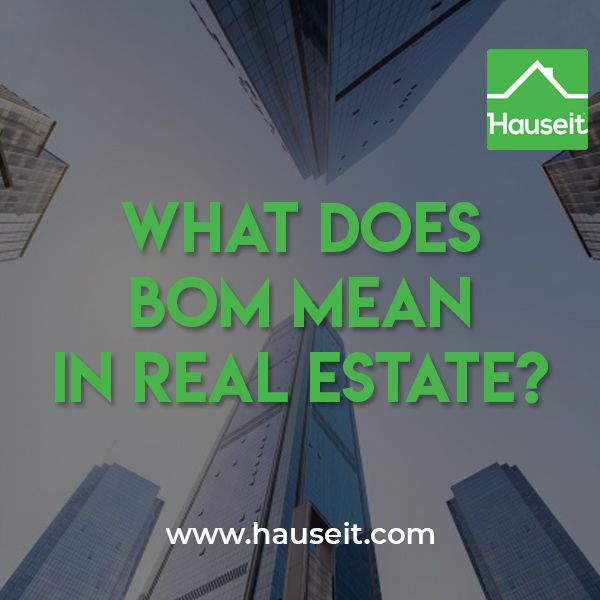 If the listing was in contract, meaning that a fully executed

purchase contract

was in place, the deal could have fallen through if a contract contingency was met. For example, perhaps the buyer had a mortgage contingency in the contract and was not able to get a mortgage commitment letter from a bank within the time limit, and decided to back out. Or perhaps the appraisal came in low, and the buyer was protected by an appraisal contingency clause in the contract and decided to back out.
Yes, just because a listing is back on the market does not mean there's something wrong with the property. Most likely the reason that the property is back on the market is because the buyer decided to back out, perhaps because they got cold feet or they realized that they were not financially qualified.
Sometimes, a buyer will back out of deal that's in contract simply because the co-op board rejected them. Or perhaps the buyer wasn't able to get a loan, or couldn't close with a loan because the buyer lost their job at the last minute. Things like this can happen through no fault of the seller.
As a buyer, you should always be wary about why a home may be back on the market, especially if the price seems too good to be true. Did the last buyer find something out about the property during the due diligence period that made the purchase untenable?
Leverage your buyer's agent to reach out to the listing agent for the inside scoop on what happened with the last deal. Many listing agents will be very upfront and honest about what happened, for example if the buyer was simply rejected by the co-op board. Since your buyer's agent is a people person by profession, he or she should be able to read into the listing agent's response and determine just how truthful they are being. Remember, you're taking their word for it!
Putting a house back on the market is easy. Just ask your real estate listing agent to put your home back on the market and they'll know what to do. Next steps generally fall into the following two categories:
Accepted Offer Fell Through – If your home is back on the market because an accepted offer fell through, then very likely there's no need to change your listing's status. That's because many MLS systems only have three primary listing statuses: Active, in contract and sold. If for some reason your MLS does have a pending, offer in or accepted offer listing status, then make sure your listing agent changes that back to active.
Signed Contract Fell Through – If your deal was in contract and the buyer still fell through, then you need to ask your listing agent to change the listing status from "in-contract" to "active." This will typically trigger a notification on many people's automatic search alerts.
In either of these scenarios, it can also be helpful if your listing agent added to the beginning of the listing description, perhaps in all capital letters, "back on the market" just so people know why it still hasn't sold yet!
Sometimes you'll see a listing marked as pending on Zillow or other websites, which is just that site's equivalent of saying a listing is in contract. Remember that most MLS systems don't actually have an interim listing status between active and in-contract.
So what does it mean when a listing was marked as pending / in-contract, and then it disappears off market without being marked as sold?
This phenomenon can happen either because the in-contract deal fell through and the seller didn't want to try again, or because the deal has closed or is about to close and the listing agent or seller didn't bother to update the listing status.
The latter is actually quite rare in most regions of the United States because MLS systems are typically quite strict about having accurate data and timely listing status updates. As a result, it takes a really rogue agent or a FSBO seller to simply remove an in-contract listing early or to remove it without marking it as sold.
The best way to find out what happened is to have your buyer's agent reach out to the listing agent!
Sale pending is typically the same thing as in-contract on many public facing real estate search websites such as Zillow as we've discussed in the previous section.
However, keep in mind that "under contract" is a rather ambiguous term and can be construed to mean either "in-contract" or that a contract has been sent out and is being negotiated, but hasn't been signed yet.
If "under contract" is understood to mean "in-contract," then "under contract" is equivalent to "sale pending" on most public search websites.
However, if the term under contract is construed to mean simply that a contract has been issued but not signed yet, then the term under contract is very different vs sale pending. In this case, under contract is more similar to an accepted offer vs sale pending, which typically means a listing is in-contract already.
Disclosure: Hauseit and its affiliates do not provide tax, legal, financial or accounting advice. This material has been prepared for informational purposes only, and is not intended to provide, and should not be relied on for, tax, legal, financial or accounting advice. You should consult your own tax, legal, financial and accounting advisors before engaging in any transaction. The services marketed on Hauseit.com are provided by licensed real estate brokers and other third party professional service providers. Hauseit LLC is not a licensed real estate broker nor a member of any multiple listing service (MLS).