Buying a starter home in NYC typically means purchasing a smaller condo or co-op apartment with up to one bedroom. The decision to do so should be taken only after careful analysis of the benefits of continuing to rent vs buying, as well as an analysis of potential future lifestyle changes. After the decision to buy is made, you'll need to avoid a handful of common first time buyer mistakes which we'll discuss in the last section of this article.
A starter apartment is typically a studio, 1 bedroom or

junior 4

condo or co-op apartment in a multi-unit building in NYC. Due to high housing prices in the NYC real estate market, it's typically impossible for the average

first time home buyer

to be able to afford anything larger, like a two or three bedroom apartment.
Furthermore, buying a starter home in NYC as a working professional means you'll likely be financing and limited to a budget. This means you'll most likely be purchasing a re-sale unit vs new construction, which typically costs more on a price per square foot basis.
For those on a shoestring budget, buying a starter home in NYC typically involves purchasing a small studio in a co-op building in a cheap part of town. For example, many parts of the Upper East Side and Yorkville have co-op buildings full of cheap studio apartments that make for great starter apartments.
Our Discretion, Your Advantage
Our traditional partner brokers never openly discount which means less disruption and better execution for you.
What Is the Best Type of Starter Home?
The best starter home is one that is flexible and adaptable to your changing lifestyle needs. Ideally, it'll have enough room for a baby crib if you have an unplanned pregnancy. And if you have an unplanned infant, your apartment better have a washer and dryer installed. Just imagine having to haul dirty diapers to the laundromat down the street instead!
If we had to choose, the perfect starter home would be a junior 4 apartment with a usable 2nd bedroom, even though it won't be big enough to be considered a legal bedroom. Remember that junior 4 apartments are by default cheaper than true two bedroom apartments because the 2nd bedroom doesn't meet the requirements for being a

legal bedroom in NYC

.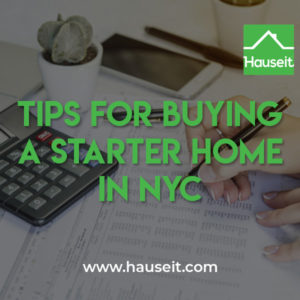 This set-up offers starter home buyers the perfect amount of flexibility. Assuming that you are purchasing the starter apartment as a single person, you could use that second room as a home office. Then when you have that unexpected first kid, you can convert the home office into a baby's room with enough room for a crib and everything. This buys you critical time, perhaps years, to look for a new and bigger home to move into.
Our ideal starter apartment would also have a second bathroom, even if it's just an additional half bathroom. This will give the starter apartment so much more flexibility down the road if you have to squeeze a kid in the apartment. Plus, it's so much easier to direct guests to the half bath vs your master bathroom!
Save 2% On Your Home Purchase
Our partner brokers are some of the most experienced and reputable in the industry.
Generally speaking yes; however, you should do a careful analysis of how long you plan on staying in the city and when you'll need more space because of life changes. Furthermore, your analysis should consider your future earnings potential and whether you'll need to sell your apartment in order to buy a new, larger one.
The primary concern in all of this are

closing costs in NYC

which can eat up substantial amounts of your home equity. As a result, you need to carefully consider whether

buying vs renting

makes sense if you'll need to sell your home in order to buy again within two years.
For example, if you just got married and plan on having kids immediately, then it may not make sense to buy a starter studio apartment. It might make more sense to continue renting for 1 year, saving up more money, and then just buying a larger two bedroom apartment from the outset.
However, if you're in your early twenties and don't plan on getting married or having kids anytime soon, it could make plenty of sense to buy that starter bachelor's pad!
Not having representation – First time home buyers often think that it's unnecessary to hire a buyer's broker because they can find virtually all listings online by themselves. This is terrible logic because having a buyer's agent is free for buyers, and there's never any sort of exclusivity. Sellers typically pay a fixed commission regardless of whether it's split between a buyer's agent and the seller's agent. As a result, it's really "use it or lose it" when it comes to your right to free representation and guidance.
Not getting a buyer closing credit – Most newbies buying a starter home in NYC will have no idea that they can earn some of the built in broker commission for themselves. It's a complete surprise to most that not only are the services of a buyer's agent free, but you can also get part of the buyer agent commission for yourself through a completely legal and tax free

buyer closing credit

.
Not verifying the square footage – Blindly trusting the listing agent's advertised square footage can be a deadly mistake for a starter home buyer. Square footages are often inflated by listing agents, sometimes by 20% or more and especially for co-op apartments where square footages are often just estimates. Remember that there is no standard way to

measure square feet

for apartments in NYC.
Not participating in due diligence – Trusting your real estate attorney to be completely thorough in due diligence is a common first time buyer mistake. Since you will ultimately be writing the check, you should personally also review the

original offering plan

,

board meeting minutes

,

building annual financial statements

and budget.
Not negotiating closing costs – Not knowing that closing costs are negotiable, especially when it comes to

buying a new construction home in NYC

is a costly mistake. In new development purchases, sponsors typically expect you to pay their

NYC and NYS transfer taxes

and attorney's fees; however, just know that this and much more is negotiable!
Believing accepted offers are final – Naïve first time buyers will believe they have a deal locked down as soon as their offer is accepted. Little could be further from the truth. In New York, accepted offers are rather meaningless and neither party is bound until a

purchase contract

is fully executed.
Not submitting multiple offers – Buying a starter home in NYC isn't as simple as submitting an offer on your favorite home and being done with it. Even if you get an accepted offer, both you or the seller can back out at any time before contracts are fully executed. As a result, it's important to have option value and not get your heart set on any single property. Submit multiple offers and even negotiate contracts on multiple accepted offers!
Not doing a home inspection – While home inspections are uncommon for condo and co-op apartments in larger buildings since owners are only responsible for the interior of their apartments, it could make sense to do a home inspection for special situations such as

condominium conversions

, small

self-managed co-ops

and condos and top floor (roof leaks) or ground floor (vermin) apartments.
A Full Service Listing for 1%
Sell your home with a traditional full service listing for just one percent commission.
Disclosure: Hauseit® and its affiliates do not provide tax, legal, financial or accounting advice. This material has been prepared for informational purposes only, and is not intended to provide, and should not be relied on for, tax, legal, financial or accounting advice. No representation, guarantee or warranty of any kind is made regarding the completeness or accuracy of information provided.