Selling For Sale By Owner in NYC makes a ton of sense when you consider the alternative: paying 6%, or over $100,000, to a NYC real estate broker.
Listing For Sale by Owner in NYC is a straightforward process if you have patience and spend some time learning about how the FSBO process works.
In this article, we offer

NYC FSBO sellers

an overview of how they'd go about selling For Sale by Owner in NYC.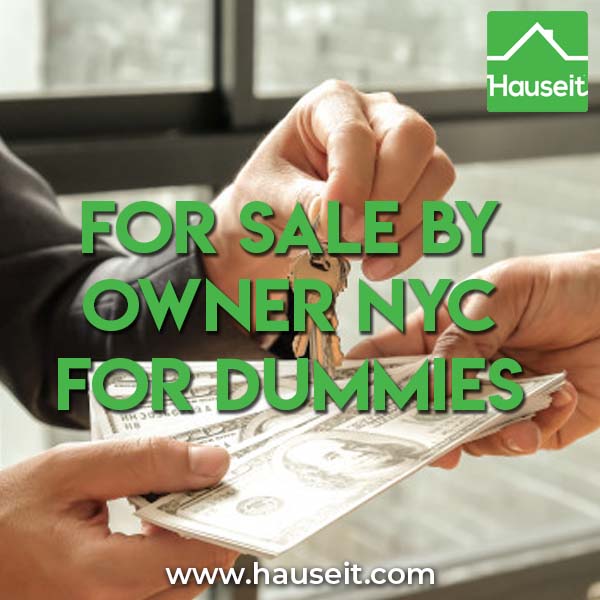 Why should I sell For Sale by Owner in NYC?
To figure out why it makes sense to list For Sale by Owner in NYC, let's first figure out exactly what 'value' is added by your typical NYC listing agent.
A listing agent's value-add can be broken down into the following elements:
Listing Syndication Software
NYC listing agents have the ability to post your listing onto the local broker database called RLS. This is a very important marketing tool for your listing, since over 75% of buyers are represented by agents who almost exclusive use RLS to search for properties.
However, as a For Sale by Owner seller in NYC there's no need to pay 6% in commission just so your home can be listed on RLS. Our

NYC Flat-Fee RLS package

will list your home on the RLS and over a dozen sites like StreetEasy for zero percent commission.
Knowledge
An experienced NYC listing agent will presumably have some basic knowledge about your building and area. It's nice to work with a knowledgeable agent, but is that worth paying over $100,000? A typical home owner and For Sale by Owner seller in NYC will have significantly greater knowledge about his/her unit, building and neighborhood than a listing agent who may only have one other listing in your area!
Time
Your typical NYC listing agent will have plenty of time to show your home to prospective buyers and buyers' agents, even on short notice. But one of the key requirements of selling For Sale by Owner in NYC is that you, the seller, have time to show your apartment. Therefore, it makes very little sense to justify paying 6% on the grounds that the NYC listing agent will have time to show your property!
Negotiation
It's true that any experienced agent will have good experience in the art of negotiation between buyers and sellers. However, is the benefit of having an experienced 'negotiator worth paying $100,000 in commissions? It's not exactly the case that buyers/sellers overpay or underpay in today's market. Supply and demand ultimately

set your listing's sale price

. It's highly unlikely that 'negotiation' will give you a tangible benefit worth over $100,000.
Not to mention, if you are fortunate enough to be a NYC home owner surely it must mean that you are a successful individual who is somewhat skilled in negotiating as well!
Board Package Assistance
It's true that board packages (purchase applications) in NYC, especially for coops, can be rather complex. At the same time, filling one out is not rocket science. They may be long applications (in some cases 40 pages or more), but the information they ask for is not exactly like taking the SAT verbal section. Most of the application involves transferring numbers and information from other sources, like financial statements, onto the purchase application.
Is it worth paying a broker $100,000 just so they can fill out an application for you. Not to mention, if you really need some assistance on the board package you can just pay a broker by the hour to help you with the application.
What are the steps for selling For Sale by Owner in NYC?
Step1: Homework - Pricing, Cleaning/Staging, Market Knowledge, Building Policies
The For Sale by Owner process in NYC begins with a bit of homework for sellers. Any FSBO seller in NYC can easily take care of these items on his/her own:
Pricing
It comes as no surprise that most NYC FSBO sellers are very hands-on individuals. As such, most if not all of them have been studying the market and comparable sales for quite some time before officially deciding to sell.
If you'd like a second opinion on your pricing, one great strategy is to contact a few of those listing agents who have been sending you post cards over the years. They will prepare a CMA for your property. Ask each of them to send you a pricing analysis of your home.
Cleaning/Staging
This is one area where many unsuccessful 'old school FSBO' sellers of the past have stumbled. Cleaning and property staging your home so that you can

take professional photos

is one of the most essential parts of the For Sale by Owner process in NYC.
There's a reason why every single listing by a traditional agent has impeccable photos. A picture is worth a thousand words. Your listing will be competing against all of the

agent-managed listings

in NYC which have world class real estate photos.
We've seen far too many confused NYC FSBO sellers forget say no to professional photography so they can save a few hundred dollars. It comes as no surprise that many of these FSBO sellers fail. They ultimately end up hiring an agent, who promptly drops the price and pays for professional photos. The listing eventually sells, however the financial damage to the seller (lowering price & paying 6% commission) is astounding.
FSBO Market Education
A home sale is one of the most important financial transactions of a person's life. Therefore, it should be treated as such. No For Sale by Owner seller in NYC should ever begin the process without having learned more about how the market operates. Our blog has a wealth of knowledge about how the real estate market in NYC actually works.
By educating yourself about the process, you will be able to more easily debunk the common lies told by real estate agents, properly

set your expectations

, and be prepared for every step of the process.
Building Preparation
For condo and coop FSBO sellers in NYC, it's also important to educate yourself about your building's policies for sales and also request the relevant documentation which you will need to provide prospective purchasers.
Many coop buildings have specific policies regarding unit sales. They may include any of the following:
Providing the board with advanced notice of your intent to sell

'Quiet Hours' whereby showings or open houses are prohibited

Blanket restrictions on open houses
FSBO sellers will also need to have the following documentation/policies on hand to provide potential buyers:
House Rules

Alteration Agreement

Purchase Application

Management Contact Information

Building Financials and/or Offering Plan
By having these policies and documents in advance, you will be able to more quickly move forward and complete the NYC For Sale by Owner sale process.
Step 2: Professional Photos and Floor Plans
Hire a professional photographer. Don't be that confused 'old-school' FSBO seller with dark photos of a disorganized living room. As we've said before, there's a reason why not one single listing agent in all of NYC who is worth hiring would ever post a property without professional photos. Your nest egg is at stake here, and in times like this it's okay to invest a few hundred dollars into the success of your home sale.
If common sense wasn't persuasive enough, here's another reason why you should invest in professional photos: many investors and vulture buyers specifically target FSBO sellers who don't appear to know what they are doing because it means that these sellers may sell for a below market price. One dead giveaway that a FSBO seller hasn't done his or her homework is if the listing has DIY photos or it isn't posted on RLS.
Having a floor plan on your listing is also a requirement if you are expecting buyers to take your listing seriously. If you don't include a floor plan, you will confuse buyers. We regularly hear of buyers and agents who will refuse to view a property until they can review a floor plan.
Step 3: Flat Fee RLS Package (List on RLS, StreetEasy and more sites)
Property syndicating your listing onto RLS, StreetEasy and additional sites by using a NYC Flat Fee MLS package is the single most important thing you must do as a NYC FSBO seller.
Why is this so important? Having the correct listing marketing exposure to buyers equates to having more buyers see your listing. If more buyers see your listing, you will by definition receive more inquiries, more offers and hopefully a higher sale price.
If you are looking to achieve the best possible sale price, simply listing your home on one website is akin to shooting yourself in the foot. Over 75% of buyers are represented by agents who do not show listings that aren't in RLS. Therefore, if you aren't listed in RLS you are only exposing your listing to 25% of the total buyer base!
Hauseit's for sale by owner listing package offers an inexpensive way to appear in the city's broker databases – MLS (Multiple Listing Service), OLR (Online Residential), etc. and on every real estate website that matters for unrepresented buyers (including StreetEasy and dozens more sites).
Step 4: Open Houses & Showings
A key benefit of listing For Sale by Owner in NYC is that you will have the ability to show your own home and answer questions. No agent will know your home better than you. As such, you are the perfect person to speak with interested parties to describe the unit, building and neighborhood.
If you'd like to have a professional run your open houses, we offer two complimentary open houses with our

NYC Flat Fee RLS listing package

. Alternatively, we offer busier home sellers the option to list with a full-service listing agent for just 1% in commission.
Step 5: Receive Offers, Negotiate and Sign a Contract
At some point during the process, you will likely begin receiving offers on your property. A completed offer should come with an offer form, proof of funds, pre-approval or pre-qualification letter (if financing), and a completed REBNY financial statement. It's also suggested but not required to request the attorney contact information for the bidders as well as a purchaser bio.
As the seller, it is your responsibility to thoroughly review all offers and follow-up with various parties to offer feedback and counter (if applicable).
Once you've accepted an offer, it's critical that you hire a professional and responsive real estate lawyer. You don't want your sale to be held up because your lawyer doesn't use email and constantly asks the more adept seller attorney to fax documents all day long.
Step 6: Submit Board Application and Close your Sale
Once contract is signed, your focus will turn to the coop/condo purchase application. If your buyer is represented by an agent, you can expect the buyer's agent to take the lead on preparing this for his or her buyer.
If your buyer is unrepresented, it will be your responsibility as the New York City FSBO seller to assist him/her with the application. If at any point you need professional assistance, you can always request it here.
Can Hauseit save me money when buying a property in NYC?